"Together they work like magic."
"The trio played with big tone, supple phrasing, energy, and a romantic ensemble in which individualism and teamwork were balanced."
"This is one of the most interesting and exciting discs of piano trios, or any chamber music, or any classical music I have ever heard."
Fanfare July/August 2003 CD Review of New Arts Trio in Recital at Chautauqua
"This is a delightful team, with a collective personality that seems to sum up the joy of making music with each other, which, after all, is the essence of chamber music."
"Playing together with seamless rapport and producing rich symphonic sonorities, the musicians played with singing line, rounded phrases, subtle nuance of tempo and dynamic and eloquent exchanges of musical dialogue."
New Arts Trio
Rebecca Penneys – Piano
Jacques Israelivitch – Violin (1948 – 2015)
Arie Lipsky – Cello
The NEW ARTS TRIO established itself as one of America's most distinguished piano trios. Since its inception in 1974 as Trio-in-Residence at the Wisconsin Conservatory of Music in Milwaukee, Wisconsin, the TRIO performed in major cities throughout the United States and Canada including Washington, Boston, Philadelphia, Pittsburgh, Cleveland, Los Angeles, Miami, New Orleans, Denver, Phoenix, San Francisco, Toronto, Vancouver, and Montreal. In New York City, the NEW ARTS TRIO appeared at Alice Tully Hall, the 92nd St. 'Y,' and Carnegie Hall's Weill Recital Hall. In the 1980's the TRIO was recipient of the Naumburg Award for Chamber Music in two consecutive years and made two USIS Cultural State Department tours of Europe. From 1978-2012 the TRIO was Trio–in-Residence at the Chautauqua Institution and launched its chamber music program. During the 7-week music festival, they performed, presented master classes, coached chamber music and taught students who came to study with them from all over the world. In 2008 at Chautauqua, the Trio celebrated its 30th consecutive season premiering two new trios written for them, Idoru by Michael Colina and Credo by Ella Milch-Sheriff.  The NEW ARTS TRIO has 4 CD's on the Fleur De Son Classics label: the Arensky Trios, Beethoven's Arrangements for Piano Trio (2nd Symphony and the Septet), and New Arts Trio in Recital at Chautauqua (works by Beethoven, Brahms, Bloch, Part and Piazzolla, and New Arts Trio at Chautauqua: 30th Anniversary Recital (works by Dvorak, Colina, Piazzolla, and Milch-Sheriff).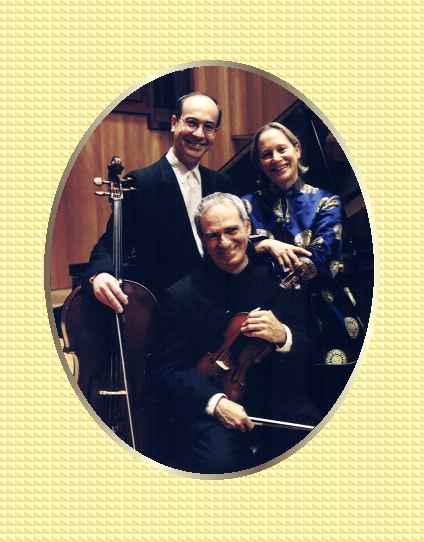 Salon Trio
Rebecca Penneys – Piano
Mikhail Kopelman – Violin
Stefan Reuss – Cello
The Salon Trio was formed in 1997 at the request of Sideny Sobel, M.D., as "Trio-in-Residence" for the Rochester Academy of Mediciane at 1441 East Avenue in Rochester, New York. The trio presents a 5-concert sold-out subscription series during the academic season. Concerts take place in the historic Lyon Mansion's living room which was specially built for salon-style performances. The afternoon series has "themed" afternoon concerts with oral program notes a recpetion following each event.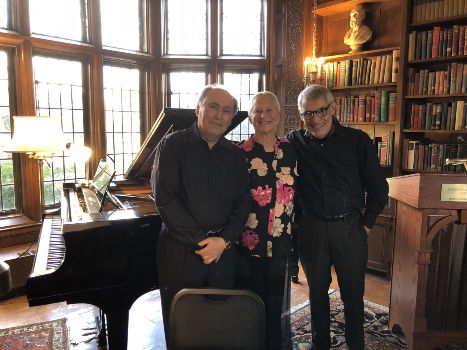 Together they work magic.
The trio played with big tone, supple phrasing, energy, and a romantic ensemble in which individualism and teamwork were balanced.
This is one of the most interesting and exciting discs of piano trios, or any chamber music, or any classical music I have ever heard.
This is a delightful team, with a collective personality that seems to sum up the joy of making music with each other, which, after all, is the essence of chamber music.
Playing together with seamless rapport and producing rich symphonic sonorities, the musicians played with singing line, rounded phrases, subtle nuance of tempo and dynamis and eloquent exchanges of musical dialogue.